Text Funk: Vol.1
Fade in, fade out is old school. Goodbye, Windows Moviemaker pre-sets, we've got real funky ways to make text groove.
In this series, we ask Vidsy's mograph experts to share their top text animations. Each volume is packed with inspiration. So buckle up and get ready to make that copy dance.
1. The Burst
Want text with impact? The Burst effect is perfect for making words or phrases pop. It can be used on a simple background, over the top of footage or even intercut with footage. It's perfect for making a viewer read something quickly.
❒ AE Top Tip: A zoom alone won't cut it, try adding a jump cut to reinforce the Burst effect. The sprinkle on top is duplicating your text layer and keyframing the "Wave Warp" Effect in and out during a jump cut.
2. Dynamic
Dynamic text should look like it's a part of the footage. Whether tracked to a 3D scene or simply masked into the footage, it always creates eye-catching visuals.
❒ AE Top Tip: Working in Top View mode helps you understand the depth of your project. To create Dynamic text, try shifting your text Z Space and create a Null Object to parent your text layers, this makes keyframing a lot simpler.
3. The Johnny Depth
Our favourite effect to give text a bold retro look. The Johnny Depth is perfect if you want to make a word funky and playful.
❒ AE Top Tip: The Johnny Depth Effect is created using the "Echo Tool". Increase the Number of Echoes to achieve this 3D illusion. To make it bounce, simply animate, then boomerang back.
4. The Shenron Wiggle
The Shenron Wiggle is a Vidsy go-to for creating mesmerising text. While being super simple to apply, it can be created with tons of variations (playing with frequency and the effect's path).
And as a bonus, it reminds us of winning a game solitaire in 1995 on your brand new Windows Personal Computer.
❒ AE Top Tip: Shenron is another example of the "Echo" effect. To achieve it, add the "Echo" tool and create a path. We recommend outlining your text with a bit of stroke.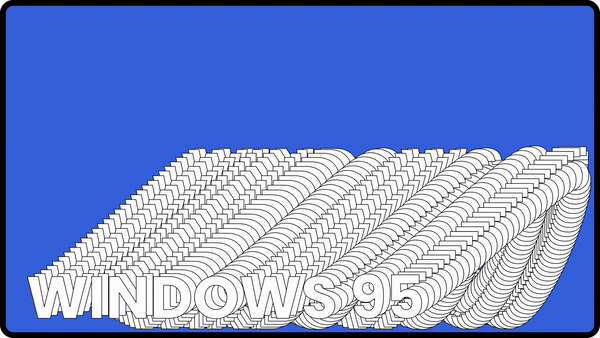 Have you made something dope from a V Mag Top Tip? Wanna get featured by Vidsy? Click the button below and share your work.